BIO | BOOKS | POLLS | MOVIES | MESSAGE BOARD | PHOTOS | WHAT'S NEW? | LINKS | BUY BOOKS
Roland Young (1887-1953)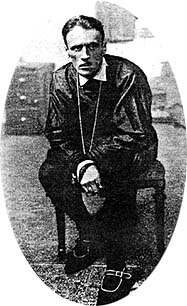 (Roland Young circa 1916)
Roland Young, star of the "Topper" series and good friend of Thorne Smith, was born in London, England, November 7, 1887. His father, Keith Young was a well known English architect.
He was educated at Sherbourne, in Dorset county, where Albert the Great once attended school, and at University College in London. Hist study room at Sherbourne was a Thirteenth Century monk's cell, below the level of the ground.
Roland earned his first money singing in the school choir, where he was paid threepence. He also earned sixpence every Sunday for singing in the chapel choir. Saving up his hard earned cash, he visited France, Italy, Switzerland, Dalmatian Coast, Morocco, Malta, Gibralter, and the Canary Islands.
Young attended Tree Dramatic School in London for a year. His father was not at all eager to have his son on the stage, preferring to have him become an architect. Once when Roland was ill with a cold, so ill he could not speak above a whisper, his father asked him what he would like to do when he recovered. Young answered with grunts and groans to the various occupations his father suggested. "Would you like to be an actor?" the father finally said. "Uh huh", grunted young. And so with this dubious permission, Roland was allowed to study dramatics.
His first engagement was in 1911 with Arthur Bouries in "Find the Woman". After playing in stock for some time in the English provinces he appeared in "Improper Peter" in London. So successful was he in this play that his next chance came from New York where he played in "Hindle Wakes" and in shorter plays with the Darlington Square Players. Other full length stage plays included "John Gabriel Sorkman," "Good Gracious Annabelle," "The Successful Calamity," "Rescuing Angel," "Scambled Wives," "Buddies," "Rollo's Wild Oats," "Pomeroy's Past," "Madam Pierre," "The Devil's Disciple," "The Beggar on Horseback," "The Last of Mrs. Cheney" and "The Queen's Husband."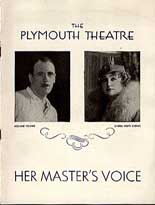 Roland's first screen appearance was with John Barrymore on "Sherlock Holmes". Later he came to Hollywood to play in "The Last of Mrs. Cheney," but the film role was filled before his arrival. He went under contract with M.G.M. to make "Unholy Night". He also appeared in "Her Private Life", "Wise Girls," "The Bishop Murder Cases," and the role of Jimmy Wade in "Madam Satan". Other films of the same period in which Young appeared include "The Squaw Man," "New Moon," "The Pagan Lady," "Lovers Courageous," "One Hour With You," "This is the Night," "Street of Women," "The Guardsman," "The Woman Commands," "They Had to Marry" and "A Lady's Profession".
In 1926 Young married Marjorie Kummer, the daughter of ClareKummer, the playwright who wrote "Rollo's Wild Oats" in which Young appeared. Aside from the fact that they were married in the vine-covered back porch of his wife's summer cottage at Narragansettt Bay, and one of the bridesmaids got as grasshopper down the front of her blouse and had to leave, it was a perfectly normal wedding.
Shortly after his first series of pictures in Hollywood, Roland returned to London where he starred in the English film, "Wedding Rehersal." Other pictures he made in London include "The Man Who Could Work Miracles," "King Solomon's Mines," "Gypsy" and "Sailing Along".
Coming back to New York, he starred in a few more plays, including "Her Master's Voice," "The Distant Shore," "A Touch of Brimstone," "Spring Thaw," "Devil's Diciple" and "Another Love Story". It was around this time that he met and struck up a friendship with Thorne Smith. Thorne's grandson, Terry relates that his mother can remember Thorne and Roland telling jokes and sipping wine all day long. Like Smith, Young was an avid walking cane and pen collector. How they met and established their friendship isn't clear, but it must have led to Young's most memorable role as "Cosmo Topper" from Smith's series of "Topper" books.
Near the end of Thorne's life, young wrote two books - one of which is Thorne Smith's only substantial biography to date, "Thorne Smith: His Life and Times." The other book from this time was a book of caricatures and poems called "Not For Children." "Life and Times" was only about 20-25 pages long and could easily be mistaken for a pamphlet. As far as I know, there was only one edition ever printed and existing copies command a high price for collectors.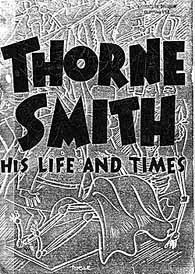 ..................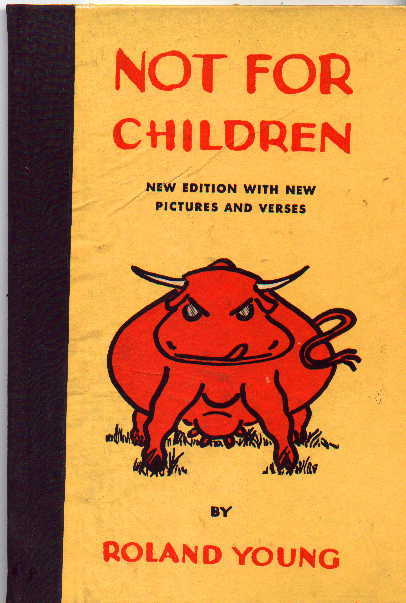 Young was five feet, six inches tall, weighed 145 pounds, had brown-gray hair and blue eyes. Like Smith, he was a lover of animals, having one dog, one cat, collecting rare specimens of goldfish and a fondness for porcelain penguins. His balck cat was named "Unex" (short for Unexpected) and carried his own latchkey to the diningroom (a small swinging door arrancement).
Young died in his sleep at the age of 65 at his New York home. During his career, Young starred in over 100 films, principally in urbane, man-of-the-world roles, but he will probably be best remembered for bringing a unique magic to the role of his best friend's creation - Cosmo Topper.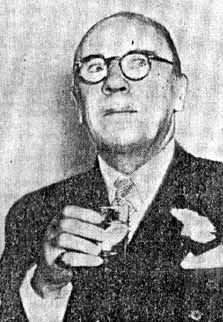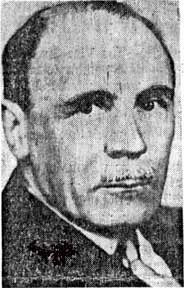 Other Roland Young Links
Roland Young @ Videoflicks.com
Roland Young Information @ E*Online
A Few Screen Shots from "One Hour With You"
Roland Young With Thelma Todd
Roland Young On Video
Topper
Topper Returns
Topper Takes a Trip
Let's Dance
Great Lover, The
You Gotta Stay Happy
And Then There Were None
Forever and a Day
Two-Faced Woman
Flame of New Orleans, The
Philadelphia Story, The
Young in Heart, The
King Solomon's Mines
Man Who Could Work Miracles, The
One Rainy Afternoon
David Copperfield
Ruggles of Red Gap
Wedding Rehearsal
Guardsman, The
Madam Satan
BIO | BOOKS | POLLS | MOVIES | MESSAGE BOARD | PHOTOS | WHAT'S NEW? | LINKS | BUY BOOKS