BIO | BOOKS | POLLS | MOVIES | MESSAGE BOARD | PHOTOS | WHAT'S NEW? | LINKS | BUY BOOKS
The Passionate Witch
1941
The Passionate Witch
Thorne Smith, in his brief but amazing life, established a one-man literary genre. In the years since his death no one has usurped his place as a creator of alcoholic hilarity in the novel form. His faithful public will greet with joy this genuine new Thorne Smith novel, left unfinished at the time of his death and now completed by Norman Matson.
This uproarious novel recounts the remarkable consequences of a marriage of a meek and respectible man with a grade-A witch. T. Wallace Wooly, Jr., a wealthy widower who lived a quiet and stuffy life on a diet of vitamins and vegetable juices, did not know what he was getting in for when he rescued a strange woman, entirely nude, from a burning hotel. In fact, Mr. Wooly was a little bewildered a week later to discover that he had taken the lady as his wife. His bride's unconventional antics were eventually to revolutionize Mr. Wooly's life. He who had never in his life drunk anything stronger than carrot juice was to find that steady alcoholic consumption was requisite to peace of mind. There follow some of the finest binges in literature, climaxed by the memorable scene in which Mr. Wooly disguised as an old lady from Perth Amboy, appears at a Turkish bath.
Does this sound a lot like Bewitched? It should - Sol Saks, the series creator, based his show on the original idea put forth in this novel.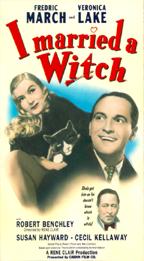 BIO | BOOKS | POLLS | MOVIES | MESSAGE BOARD | PHOTOS | WHAT'S NEW? | LINKS | BUY BOOKS