BIO | BOOKS | POLLS | MOVIES | MESSAGE BOARD | PHOTOS | WHAT'S NEW? | LINKS | BUY BOOKS
The Stray Lamb
1929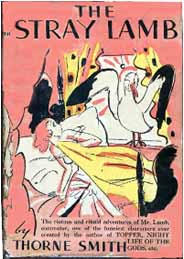 The Stray Lamb
Mr. T. Lawrence Lamb had a wife, a daughter, and a commutation ticket. He worked hard, looked at women on trains and did nothing about it, suffered his wife to play about platonically (he thought) with a Mr. Leonard Gray, who was interested in amateur theatricals. Mr. Lamb was, in a word, the Great American Commuter.
That was before he met the russett man in the woods, and woke up one morning to find himself a handsome black stallion, practically free from his wife and the world. It interfered with his business and social life, but Mr. Lamb didn't particularly mind that - and there were compensations. After that Mr. Lamb became in succession a good many different kinds of creature, all of which helped to give him a new viewpoint on the world - as for instance: a sea-gull, watching the beautiful Sandra in her less public moments.
The Stray Lamb is a hilarious book, a gay, ribald, knowing book, with a deep strain of wisdom and humanity flowing beneath the brilliance of the story.
Need a copy? Click here: The Stray Lamb to place an order.
BIO | BOOKS | POLLS | MOVIES | MESSAGE BOARD | PHOTOS | WHAT'S NEW? | LINKS | BUY BOOKS