BIO | BOOKS | POLLS | MOVIES | MESSAGE BOARD | PHOTOS | WHAT'S NEW? | LINKS | BUY BOOKS
Did She Fall?
1932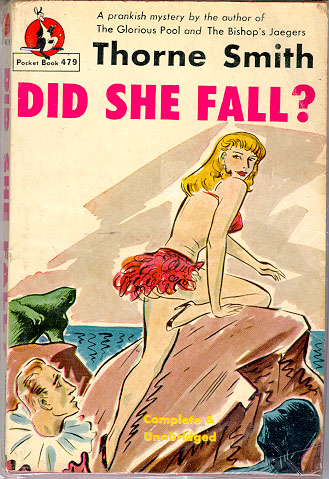 "Sometimes a well-executed murder clears the air. This observation is in no sense suggestively advanced. But the fact is that in virtually all groups, communities, and gatherings of human beings there are certain members who would be far, far better out of the way... persons whose speedy absence would result in more actual good than would their continued presence."

Thus begins Did She Fall?, Thorne Smith's only mystery novel. The synopsis of the book goes on to say: She could have given lessons to Lolita. Emily-Jane was blonde, with wide, innocent blue eyes. When she was still in boarding school she was queen of revels that would have shocked the most sophisticated adult. And she kept records on all her partners...

America's bawdiest, wittiest writer turns his talents to a startling novel of murder, suspense and brilliant detection. The story of Emily-Jane. When she was bad, she was very, very bad, and when she was good, she was luscious until somebody killed her, or did she fall?

To put in a search request for "Did She Fall?" - Click here.
BIO | BOOKS | POLLS | MOVIES | MESSAGE BOARD | PHOTOS | WHAT'S NEW? | LINKS | BUY BOOKS