BIO | BOOKS | POLLS | MOVIES | MESSAGE BOARD | PHOTOS | WHAT'S NEW? | LINKS | BUY BOOKS
Skin and Bones
1932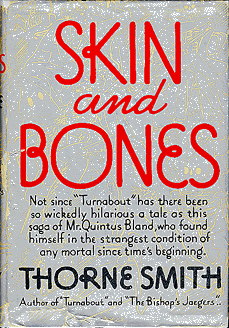 Skin and Bones is the story of Mr. Quintis Bland, the eminent photographer, whose attempts to perfect X-ray film had the effect of leaving MR. Bland in the position of being an X-Ray film himself. In other words, he suddently found himself no more than a skeleton! Mr. Bland seeks solace in the company of Pauline and Claude Whittle, a cheerful if slightly inebriated couple who promptly assist the fleshless hero from the frying pan into the fire.
For sheer cockeyed humor, Thorne Smith has never been more brilliant than in this tale of an unwilling skeleton in society. It is full of the hoarse, gamy laughter of the Topper stories, the same sly observation and warm understanding of life.

Macy's book department sponsored a radio promotion for "Skin and Bones" in December of 1933. The program ran half an hour and consisted of an interview with Thorne Smith as well as a dramatazation of a portion of "Skin and Bones."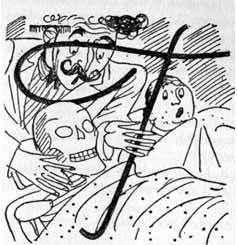 Need a copy? Click here: Skin and Bones to request a search.

BIO | BOOKS | POLLS | MOVIES | MESSAGE BOARD | PHOTOS | WHAT'S NEW? | LINKS | BUY BOOKS