BIO | BOOKS | POLLS | MOVIES | MESSAGE BOARD | PHOTOS | WHAT'S NEW? | LINKS | BUY BOOKS
The Bishop's Jaegers
1932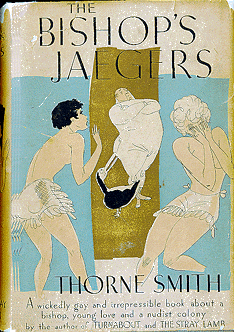 Peter Duane Van Dyck, a 34 year old coffee magnate, Bishop Waller and four other passengers fogbound on the Staten Island Ferry leave their stranded vessel seeking help and find themselves shipwrecked in a nudist colony.
The man leading the nudist colony, named Jones, carries a duck under his arm that goes by the name of Havelock Ellis. Jones and the group welcome the stranded strangers ashore but request that they adhere to the colony's policy concerning the restricted use of clothing. Those that comply have a jolly time living it up with the rest of the ribald group. Those that don't (Bishop Waller) become the subject of ridicule.
As with almost all Thorne Smith novels, the fun ensues when the characters let down their hair (take off their clothes) and thumb their noses at the rules and regulations set up by society.
BIO | BOOKS | POLLS | MOVIES | MESSAGE BOARD | PHOTOS | WHAT'S NEW? | LINKS | BUY BOOKS