BIO | BOOKS | POLLS | MOVIES | MESSAGE BOARD | PHOTOS | WHAT'S NEW? | LINKS | BUY BOOKS
Biltmore Oswald
1918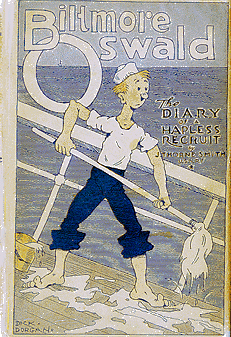 Before there was Popeye, Sad Sack, Beetle Bailey and Crock, there was Biltmore Oswald. Biltmore Oswald is the compilation of a weekly series that Thorne Smith wrote for the Naval Journal Broadside. It's the diary of Biltmore Oswald, a hapless naval recuit, and his day to day adventures during World War I.
Oswald, a naive innocent, finds himself in many a compromising situation: Showering in the hotel room of the wife of a murderous, jealous man; observing French men greeting each other with kisses, and being pursued by beautiful women, much to the displeasure of his sweetie, Polly.
This, as Thorne Smith's first attempt at writing, proved to be quite successful for its time, yielding a sequel, "Out 'o' Luck."
BIO | BOOKS | POLLS | MOVIES | MESSAGE BOARD | PHOTOS | WHAT'S NEW? | LINKS | BUY BOOKS